Oberlunar è un ingegnere narcolettico, cantante e compositore polimorfico, lunare e proiettato su orizzonti distopici, pregno di cultura cyber punk, fonda la sua attitudine alla sperimentazione ed alla composizione generativa basata su reti neurali accompagnando l'ascoltatore in viaggi spirituali profondi, dark blue ed extra-dimensionali.
"For Oberlunar, music offers him a feeling of escape from the earth, in the deep empty space, which then infuses himself into his daily life and serves to transform every moment into a truly intimate representation of the dark blue notes that come from the soul." by Titus
I'm in the top 12 experimental piano artists chart of Last.fm!!!
"They never come back"
featured on MuziqueMagazine!!!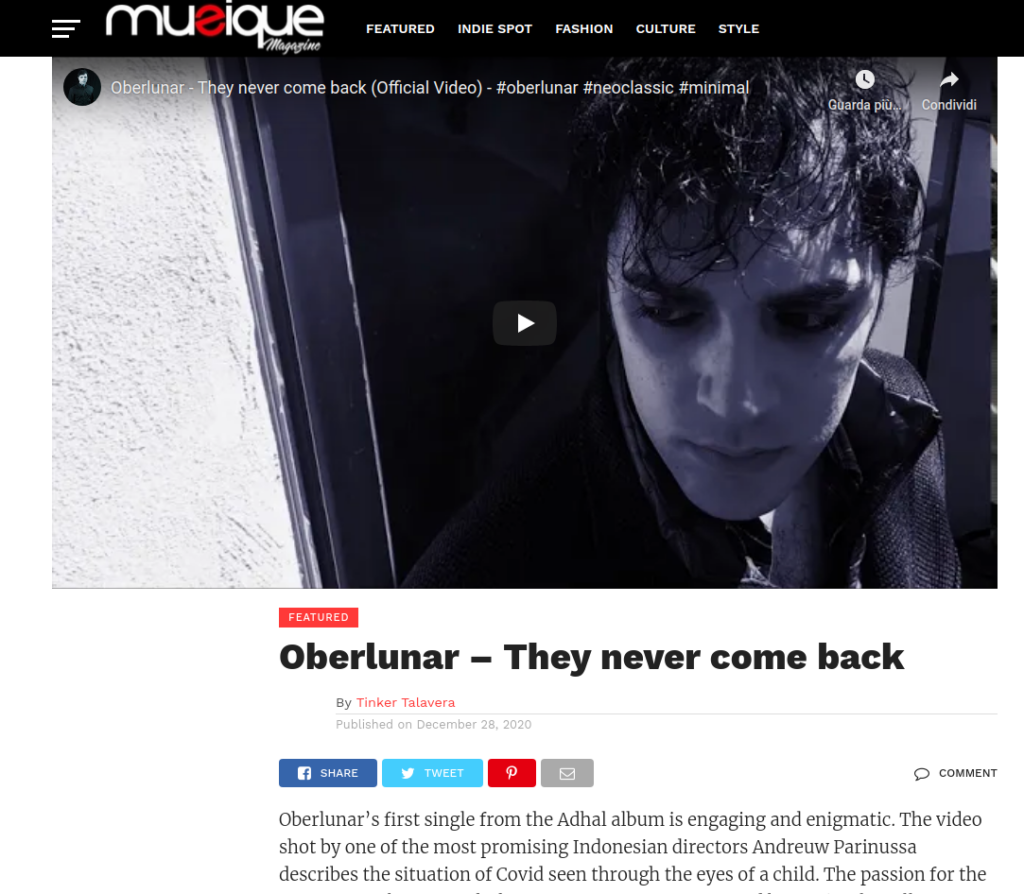 Italian fans
interview on BlogDellaMusica.eu!!!
His creative process represents the annihilation in the darkness and the explosion of light. Oberlunar has always suffered from a very strong internal disagreement that resulted from his disjointed studies. He initially faced classical studies after which his forma mentis drastically changed as conditioned by molecular biology, mathematics and advanced algorithms. Despite being focused on his work as a Computer Engineer with a PhD on artificial and computational intelligence, there still exists a part of him that will always be drawn to music even in its most classical form. Oberlunar is an artist and musician following in the footsteps of his grandmother who was a piano teacher, and picked up the classic and jazz guitar from his grandfather and father alike; coming from a family that treasured music although as just a delightful pastime. His drive is fueled by a desire to communicate emotions through music.
"Oberlunar's musical culture is psychedelic, progressive rock piano and electronic with an experimental state of mind and dark infusions."
by Angel Lodeguns
Oberlunar's contribution to each melody is introducing new and more experimental elements. His music is influenced by classical and humanistic studies, but is a composition that also blends in hybrid human-machine methodologies, resulting into an eclectic, melancholic, and dreamy style that is then refined to his taste and experience in music. His creations feature a dynamicity from instrumentals to sound, ambience to theme as he strives to test his skills in building ever more complex models for algorithmic melodies with underlying minimalism.
Currently working on releasing his first album Adhal which distils the last 10 years of his life into 7 tracks full of spirituality and experimental elements of eternal beauty, Oberlunar's next project is an album in which he plans to incorporate his voice.
---